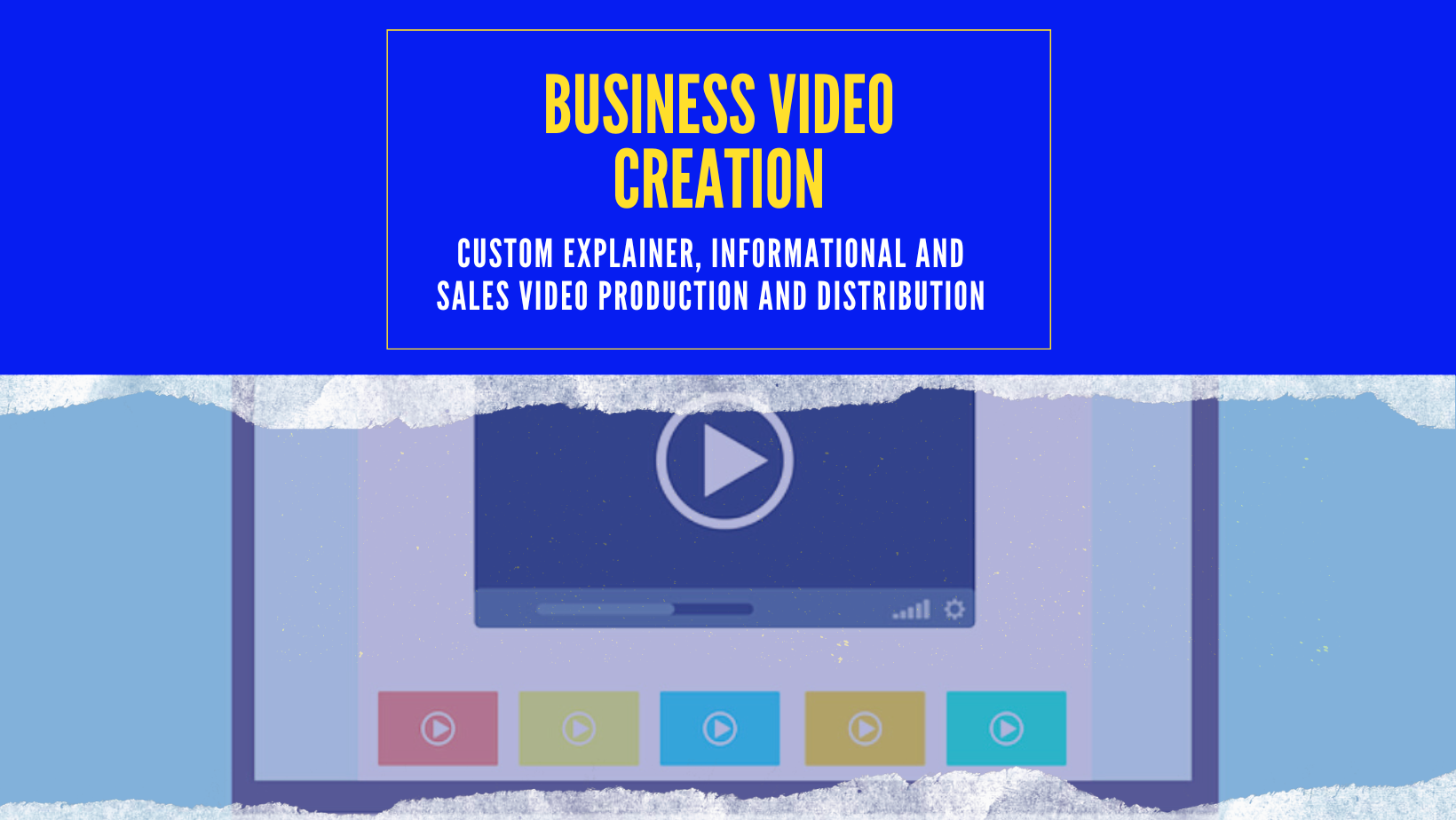 Custom Business Video Creation, Distribution and Syndication 
5 Services In 1 Business Video Creation
We have combined 5 separate services into our business video creation service to make it one of the most comprehensive and affordable services on the market.
Local businesses need great content and video content to be successful. Furthermore, paying thousands of $$$ every time you need a great video is not feasible for most small businesses trying to grow while keeping cost manageable.
This is why we have come up with a service that includes video production, custom scripts, video distribution, image and audio distribution and business citations all in one!
Check Out Our Business Video Creation Service Below
?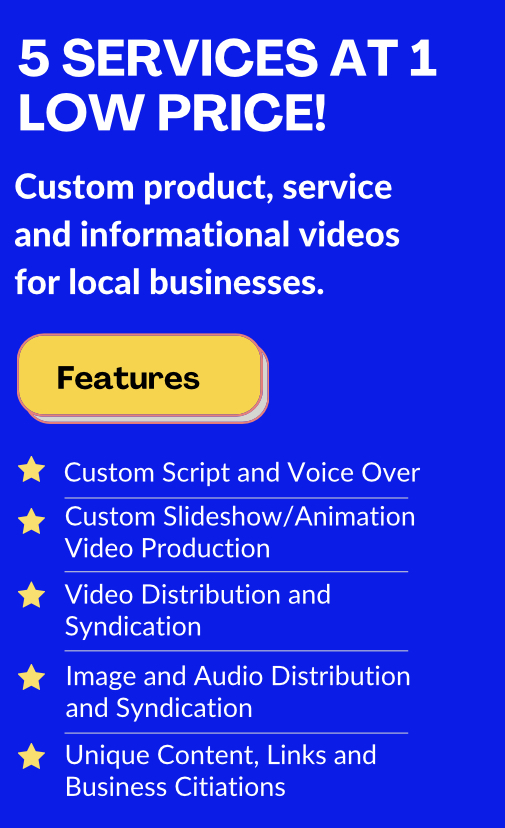 Business Video Creation Services Explained
Custom Script and Voice Over
We create a custom script based on your products, service or preferences and provide a professional male or female voice over to construct the video.
Custom Slideshow/Animation Video Production
Based on the script and voice over we create a slick, professional slideshow/animation video using your company photos, videos and other quality industry graphics.
Video Distribution and Syndication
After the video is approved we give you a copy to share on your website and social platforms. In addition, we distribute your video to around 15-20 video sites (example – YouTube, Vimeo, Tumblr) for syndication and linking.
Image and Audio Distribution and Syndication
In addition to submitting your video to the top video sites for syndication, we also distribute the images and audio from the video for syndication on the top image and audio websites on the internet (example – Shutterfly, Pinterest, Photo Bucket, BuzzSprout, Mix Cloud).
Unique Content, Links and Business Citations
With the distribution of your video, images and audio to these powerful, established websites, your business will receive unstructured links and citations pointing back to your website/business. These links and citations are essential to growing your business visibility, brand, traffic and search engine rankings.
Video samples
Why Is It Important To Create Product and Service Business Videos?
Every major social platform is going to video for messaging. Between Instragram Reels, TikTok, YouTube, etc. people are flocking to video to get their message across.

Video is the #1 driver of organic website traffic and can increase conversions by 80%. Amazingly, video can increase your chance of turning a lead to a client/customer by 80%!

By creating product or service videos for your business you give your customers a chance visibly learn about the product/service as well as your business.

Local product or service videos are easy to rank high on Google and YouTube. Achieving 1st Page rankings will increase your business visibility and traffic.

Our distribution and syndication will set your business apart from your competition. Every video we create and distribute will produce up to 50 citations and links pointing back to your business from some of the most powerful websites on the internet.

Omni-Presence! Having your video, audio and images spread across reputable websites tells the public and potential customers that you matter.
Business Video Creation FAQ's
How long are the videos?
Approx. 30 sec-1 min long
How long does it take to receive my finished product?
10-14 days
Will I be able to provide images, video and a direction for the video?
Yes, submission of company images and video is encouraged and will be used. The more we can learn about your product or service the better, so any direction or information will be useful in creating the final product.
Do I own the video?
Yes, you own the rights to the video.
How many citations or links back to my business should I expect?
40-50 citations/links – from some of the top websites on the internet.
What are the videos best used for in my business?
These videos are best used on a product or service page on your website and social media promotion. These videos are mainly used for product or service promotion or explanation as well as general business information (like a general commercial about who you are, your products, services and areas of service).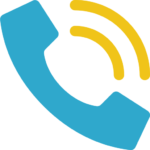 Schedule an Business Video Strategy Phone Call!

15 min can significantly grow your business
Check Out Our Other Services:
Local Digital Marketing and SEO Service
Press Release PR Amplification
Custom Business Website Design
Business Profile and Social Media Package
Servicing Suffolk County, Nassau County, East End, Long Island, The 5 Boroughs, Upstate, NY and the Tri-State Area